Hazelnuts are grown in Europe and the United States and are encased in a smooth, firm brown shell. They are most usually marketed shelled. The cream-colored, sweet-tasting kernel is small and spherical, with a pointy tip. Because its thin, dark brown skin is slightly bitter, some people prefer to remove it before eating.
Hazelnuts are delicious in raw form, but they take on a more mellow, sweeter flavor when roasted. They are high in fat content, like all the other nuts. Thus, they will go rancid soon if not refrigerated.
The Corylus tree produces hazelnut. It is primarily grown in Turkey, Italy, Spain, and the United States. Hazelnuts, like other nuts, are packed in nutrients such as protein, lipids, vitamins, and minerals. Hazelnuts are high in nutritional value. Despite the fact that they are high in calories, they are high in nutrients and healthy fats. Being this popular, hazelnuts are one of the most traded and in-demand nuts in the world. The importers from around the world are looking for top-quality hazelnuts. Here are the world's top exporters of hazelnuts.
Hazelnut Trade in the World
The global hazelnut output varies according to the meteorological conditions from year to year. Global production has increased the same as Turkey's production. While Turkey's average in-shell production is 350-400.000 tonnes, this figure has recently risen to 500.000 tonnes. Italy and Spain are two other important producing countries. They produce between 100-125 thousand and 15-25 thousand tonnes, respectively. To meet domestic demand, the United States consumes the majority of its own hazelnut crop and imports hazelnut kernel. However, by increasing output in recent years, it has become a significant hazelnut exporting country with 25 thousand tonnes.
Turkey
The country is a northern hemisphere bridge between Asia and Europe, with coasts on three sides. Turkey is the world's top hazelnut producer and exporter. The hazelnut is one of the world's most important nut crops, with its beginnings in Anatolia's center. Anatolia contains wild species that have given the source for today's produced types. It is possible to reach the best hazelnuts just in 48 hours with Turkish Goods! Contact Turkish Goods for quality products.
Hazelnuts grow in both the eastern and western regions of Turkey around the Black Sea, in sites where other crops cannot be grown. The crop's ability to prevent soil erosion is an additional benefit for hazelnut growing areas with high rainfall. Approximately two to three million producers rely on hazelnut production for a living. That's why the hazelnut exports of Turkey are strategically important. According to TUIK data, the hazelnut planting area was 555 thousand hectares in 2001. It significantly increased by 32% in 2020. It reached an area of ​​approximately 734 thousand hectares.
Considering the average data for the last 5 years, Turkey's hazelnut production is 610 thousand tons on average. That number covers 62% of productions in the whole world. In 2020, Turkey's hazelnut exports were $1.12B. That covers 60% of the hazelnut exports in the world. Hazelnut export numbers of Turkey are consistent and Turkey has been the most important exporter for a long time.
Production per decare in Turkey is lower than in producer countries such as the USA and Georgia. The average hazelnut yield of Turkey for 5 years is 84 kg per decare while the USA's yield is 221 kg per decare.
Italy
Italy produces 110.000 tons of hazelnuts. The Italian hazelnut producing area is projected to stay steady in the foreseeable future. Italy's production will be mostly determined by weather conditions and the trees' alternate bearing. The hazelnut industry is centered in four regions. Campania accounts for nearly half of total production. Piemonte, Latium, and Sicily account for the remainder.
In 2020, Italy exported $221M worth of hazelnuts. It makes Italy the second-best exporter in the world. Furthermore, Italy is one of the fastest-growing countries in exports of hazelnuts. Between 2019 and 2020, Italy's hazelnut exports surged by 11.3%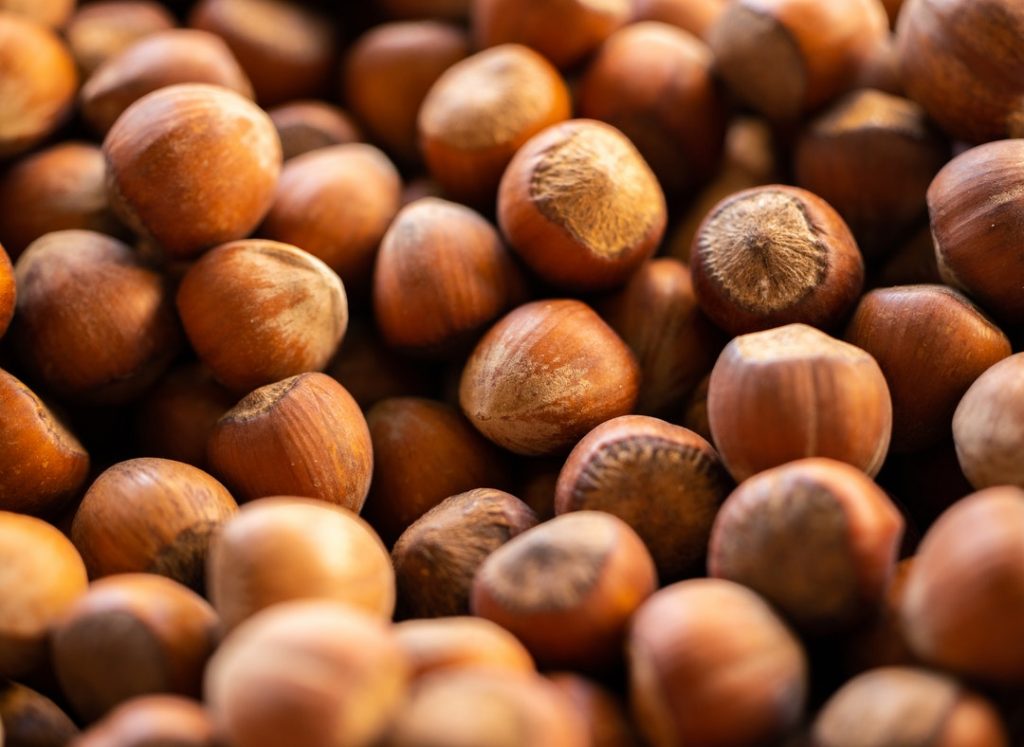 Chile
Chile is a rising star in Hazelnut exports. The country is the top producer of hazelnuts in the southern hemisphere, with the majority of the production shipped to Europe and the United States. In 2020, Chile's hazelnut exports surged to 18,225 tonnes from 12,061 tonnes in 2019. Furthermore, between 2017 and 2019, Chile's hazelnut exports grew by 45.4%, earning the nation $87.34M. The production of hazelnut in Chile was 70,000 tonnes in 2019. Chile's 2020 hazelnut export numbers rose even more. Chile exported $143M worth of hazelnuts in that year. Furthermore, exports of hazelnuts grew by 62.5% between 2019 and 2020. It will likely continue to rise.
Azerbaijan
Azerbaijan is one of the world's largest hazelnut-producing countries due to its good climate conditions for hazelnut production. Considering its close proximity to Turkey, it is quite normal.
Hazelnuts are among the most profitable agricultural products in the country. There are several types of hazelnuts, such as Atababa, Ashrafli, Ghalib, Ganja, and Khachmaz in Azerbaijan. Hazelnuts are especially popular in Azerbaijan's northwestern areas. Azerbaijan was the world's fourth-largest shelled hazelnut exporter in 2015-2016, after Turkey, Georgia, and Italy. It still holds its spot among the top exporters. Azerbaijan is currently ranked the fourth-best hazelnut exporter in the world. In 2020, Azerbaijan exported $115M worth of hazelnuts. That's 6.14% of the whole world. Yet, Azerbaijan's export numbers are decreasing lately. Between 2019 and 2020, Azerbaijan's hazelnut exports decreased by 10.8%.
Georgia
Even if Georgia is in the top 5, Georgia doesn't seem likely to stay on top. Data looks good for Georgia, yet, in just three months of the new hazelnut season, Georgia had 19 rejections at EU borders. Even though the quality of Georgia's hazelnuts seems relatively bad, Georgian hazelnut export volume was the largest in the last five years. Moreover, in 2020, Georgia exported $83M worth of hazelnuts. It's 6.64% of the world's hazelnut exports. That is a huge number. On the other hand, the exports will likely decrease if the problems aren't fixed.