It flavors dishes and salads. It is an indispensable ingredient of cosmetic products. Yes, we are talking about olive oil. Olive oil is used by consumers all over the world today. In addition to the taste, its health benefits make olive oil very preferable. But it is useful to point out one thing in advance. The taste and texture of every olive oil are not the same. The country of origin and production stages make olive oils different from each other. Weather, harvesting and processing, and even packaging shape the olive oil. These factors determine the taste, smell and color.
Today, countries take pride in olive oil production since it is a very valuable product. Do you know which countries produce olive oil the most? In this article, we will talk about olive oil production in the world. Also, you will find interesting information about olive oil. Let's dive into the details together.
A Short History of Olive Oil
Before presenting the countries that produce the most olive oil, let's take a look at the history of olive oil. In ancient times, wild olives were used for olive oil production. These wild olives emerged in Asia Minor about 6,000 years ago. This region now covers the majority of today's Turkey. So, it is no surprise that Turkey produces delicious and high-quality olive oils. Ancient people used olive oil for religious rituals, medicines, oil lamps, soap making, and skincare. This ancient ingredient still stands out in every aspect of our lives today.
Global Olive Oil Production
As we took a look at the brief history of olive oil, global production is next. The International Olive Council (IOC) shared the olive oil production data for the last year. The world's olive oil production was 3,010,000 tonnes in the 2020/21 crop year. The IOC announced that 93% of total olive oil production comes from 16 member states and the European Union. This corresponds to 2,809,500 tonnes. Turkey is also among the IOC members.
Total production in the world in 2019/2020 was 3,266,500 tonnes. Therefore, there was an 8% drop in global olive oil production. The harsh weather conditions around the world played a role in reducing overall production.
Europe had experienced an unusual spring frost. Moreover, droughts, hailstorms, and forest fires occurred in the Mediterranean basin. As a result, this situation affected some of the producing countries. But the figures published by the IOC show that there will be an improvement. The IOC predicts a three percent increase in production in 2021/22. Therefore, the IOC expects the production to reach 3,098,500 tonnes.
Top Olive Oil Producing Countries
Spain
Spain is the country at the top of the list in olive oil production. The olive oil industry is one of the most established industries in Spain. It also makes a huge contribution to the country's economy. There are approximately 340 million olive trees in the country. Spain uses 90% of its cultivated land and olive production for olive oil. 23% of olive oils are in the organic class. As a result, Spain also produces sustainable products.
The country, which has a great value in the market, turns the climatic conditions into an advantage in production. Especially, the Andalusia region makes a great contribution to olive oil production. Also, Castilla-La Mancha is a region that has a large share in production. Farmers in this region cultivate particularly the Cornicabra Olive variety.
Spain produced 1.3 million tonnes of olive oil in the 2021/22 season. However, there was a 6.4% decrease compared to the previous year.
Turkey
Turkey has made its olive oil world-renowned with the care it has given for years. Farmers and successful producers are working diligently on fertile lands to create the best Turkish olive oil. There has been a tremendous increase in olive production in Turkey. Olive orchard facilities and certified olive sapling supports are the most important driving forces in this increase. Thanks to these factors, the number of olive production areas is rising. Moreover, Turkey achieves a unique quality by incorporating the latest technology into production.
According to TURKSTAT data, Turkey's olive production showed a great increase in 2021 compared to the previous year. There was a 32.1% jump in production. This development naturally had a positive effect on olive oil production. Turkey's olive oil production increased by 35 percent in the 2021/22 season. In total, it reached 236 thousand tonnes. Olive oil is one of Turkey's most important export products. It is also at the top of the list of domestic oil stocks. Especially, the cities on the Aegean coast make a great contribution to production.
Turkey exported 37,000 tonnes of olive oil in 2021. The countries to which Turkey exports the most were the USA and Spain. Wouldn't you like to import from Turkey too? If so, Turkish Goods is here for you. You can easily find the best quality and delicious olive oils produced in Turkey. Experience Turkish Goods quality for a perfect import process and high-end products.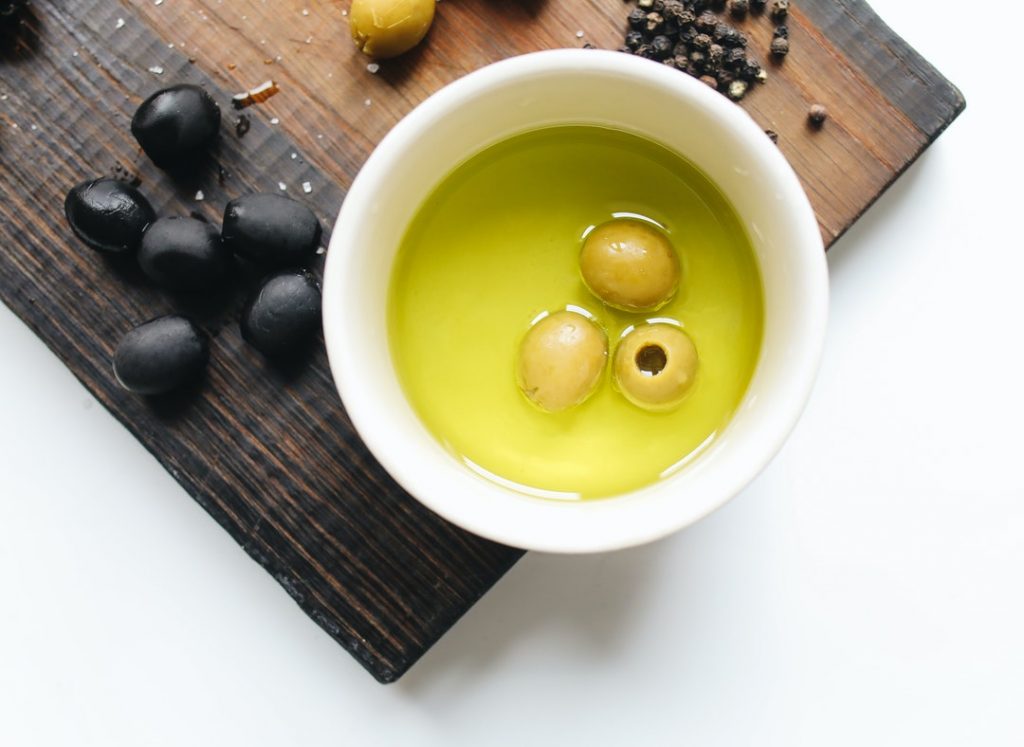 Italy
Italy is the second-largest olive oil-producing country in the European Union after Spain. Of course, as in Spain, the climatic condition of the country is very effective in high production. Together, these two countries meet 50% of the world's olive oil production. Most of the olive oil in Italy comes from the southern part of the country. Especially Sicily, Sardinia, and Basilicata regions achieve great success in olive oil production every year. Italy produced 315 thousand tonnes of olive oil in the 2021/22 season.
Moreover, Italy stands out due to using a different method in olive oil production. Manufacturers mix extracts of different types of olive oil. Their aim in doing this is to obtain high-quality oil. As a result, these techniques prove quite useful for the production of palatable oil.
Greece
Greece is the next stop of our olive oil tour in the Mediterranean basin. Olive oil is of high importance to this country. Olive trees grow on 60 percent of the cultivated land in Greece. There are numerous olive trees, especially in the Peloponnese region. There are 2800 olive mills across Greece. As a result, a country with such a high level of olives stands out in olive oil production.
In the 2021/22 season, Greece produced 235 thousand tonnes of olive oil. It exported more than half of that. This figure indicates stability compared to other European countries. As a result, Greece has become the fourth largest exporter in the European Union.
Tunisia
Tunisia has come to the fore in olive oil production, especially in recent years. Producers in Tunisia use the coastal plains to grow olives. Particularly the Sahel region is a favorite location for olive cultivation. Moreover, the country has been more involved in technology in recent years. Therefore, as in the case of Turkey, it achieves success with the help of technology. Tunisia produced 240 thousand tonnes of olive oil in the 2021/22 season. This means an increase of 71.4%.
We have listed the top olive oil-producing nations of the world above. Now you know where the delicious olive oil comes from. Turkish Goods expertly delivers this flavor to the world. We are always with you for your import needs.