Containers are the most important tools in the shipping, trading, and transportation industries. These shipping containers are structures that house a range of items that need to be carried from one point to another using a variety of container ships of varying sorts and sizes.
Intermodal shipping containers now play a critical role in the flow of international trade. For example, they account for almost 90% of all marine cargo shipping. "Intermodal" standardized containers allow international shipping firms to carry cargo quickly between ports. They allow smooth transfers between tractor-trailer rigs, train vehicles, cargo aircraft, and marine vessels. They aid in the reduction of expenses associated with several delivery options.
Carriers don't spend valuable time and money unpacking and repacking a freight shipment to transfer it from a boat to a railroad line or a trucking route. They simply transfer the complete packed and secured shipping container. Some containers go through several transfers throughout the supply chain before arriving at their final destination. This short article tries to give useful information on the characteristics and specifications of these often utilized transportation assets.
Container Types & Dimensions
Shipping containers and storage containers can come in many sizes. 20ft and 40ft shipping containers are the most typical container lengths, and 8ft in width as usual. A container's height is typically 8ft 6" and a high cube will have an extra foot to reach 9ft 6".
In almost all circumstances, the sides of a container are corrugated. The depth of the corrugation is normally 1 inch (25mm), which means that the outward width measurement is reduced by 2 inches (50mm) (1 inch on each side). The rear (blank end) is likewise corrugated, and the doors are about 2 inches (50mm) thick, thus the length is reduced by around 3 inches (75mm).
Height is the most significant drop from exterior to inside dimensions. A normal container's floor has an underneath clearance of roughly 6 inches (150mm) and a thickness of 27mm (1.1 inches). As the roof is corrugated, a further 1 inch (25mm) is lost, resulting in an interior dimension that is approximately 8 inches shorter than the exterior – 7ft 10 inches (2.39m). However, this might vary somewhat depending on the floor thickness and building style utilized.
The door height is further lowered by the steel top rail above the door, which is part of the container's structural stability. It is usually 4 inches (10 cm) and decreases the entry height to 7ft 6ins (2.28m), but this can vary slightly either way.
Standard Dry Shipping Containers
Standard containers are the most frequent freight unit for marine transportation since they are durable and multipurpose. These are known as "dry" containers. When fully enclosed, they provide protection against weather conditions. The most frequent sizes are twenty-foot and forty-foot containers. These containers are intended for use on any mode of transportation, whether by water or land.
The ISO standard 6346 specifies the external dimensions, minimum interior container dimensions, and maximum weight (including cargo). However, the tare weight, actual internal container size, and other measurements will vary from model to model and manufacturer to manufacturer.
20-foot Shipping Container
A typical ISO container of 20 feet in length is the most common and is used by ships of all sorts, large and small. The dimensions of a 20-foot container are 6.06 m in length, 2.44 m in width, and 2.59 m in height.
It can transport up to 30,480 kg / 67200 lbs. for common purpose containers and up to 45,000 kg (99,207 lbs.) for flat racks. The payload capacity of a 20-foot refrigerated container is 27,400kg.
40-foot Shipping Container
A 40-foot container has double the volume of a 20-foot container and costs just 15 to 25% more. It creates the most cost-effective shipping container for commodities carried by ship. A 40-foot container has the following dimensions: 12.19 m in length, 2.44 m in width, and 2.59 m in height.
It can transport general-purpose containers with a maximum gross weight of 30,480 kg (67200lbs.) and flat racks with a maximum gross weight of 60,000 kg (123,276 lbs.). And refrigerated containers can carry a maximum gross weight of 35,000 kg (77,161 lbs.).
45-foot Shipping Container
45-foot containers have a slightly higher cubic-foot capacity than 40-foot containers. They provide extra space for the shipper. The dimensions of a 45-foot container are as follows: 13.71 m length, 2.44 m width, and 2.59 m height. The cargo capacity of a 45-foot container is about identical to that of a 40-foot container.
The above specs are examples of widely used containers. The ISO containers' specific container dimensions and capacity may vary based on the manufacturer, the age of the container, and the container owner. Other shipping container sizes available on the market are 8 ft, 10 ft, 53 ft, and 60 ft, which are typically utilized for road and rail transportation.
Many organizations shipping abroad use only this type of container, however, depending on the nature of your goods, you may wish to explore the following freight container types.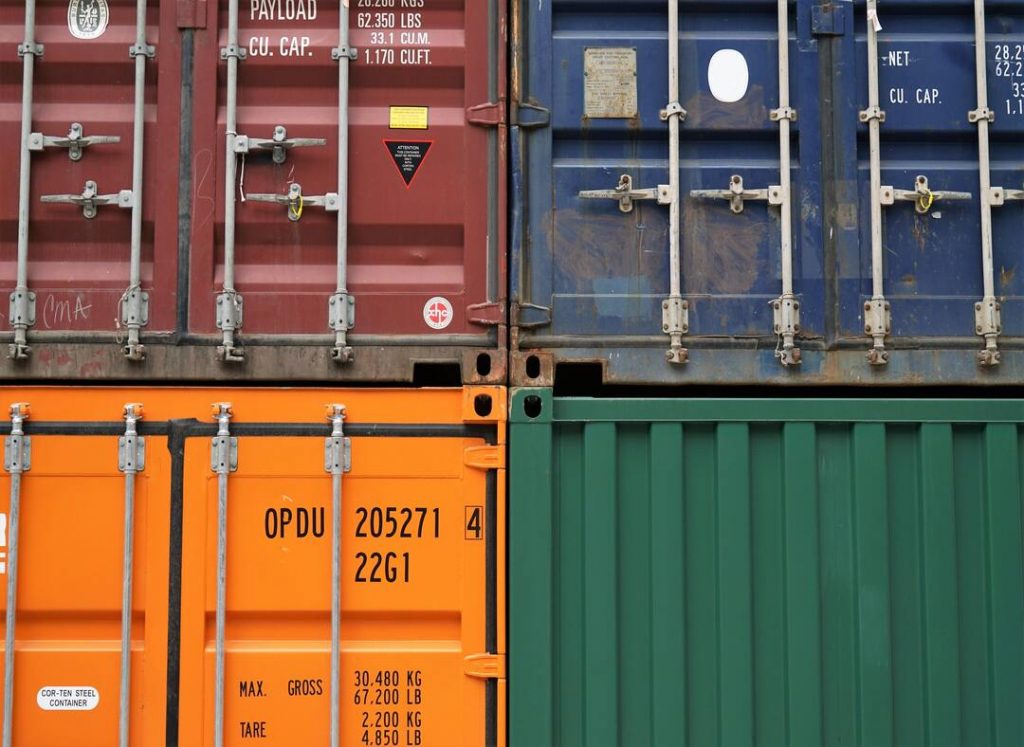 High Cube Container
A high cube is almost equivalent to a conventional dry container, except it is about a foot higher and hence has additional storage space. A full container load in a high cube container may accommodate up to 76 cubic meters of freight, compared to 67 cubic meters in a normal container.
A high cube container has the following dimensions:
Length - either 20'6" (6.25m) or 21'4" (6.50m)
Width - either 8'0" (2.44m) or 8'6" (2.59m)
Internal height - either 9'3"(2.82m), 10'0"(3.05m), or 11'5"(3.48m).
Outside dimensions would be the same as any other container. However, all high cubes are 6 inches higher than ordinary ISO shipping containers to allow for additional room within. Therefore an extra 6 inches of height equals 19% more cubic area inside.
Flat Rack Freight Containers
A flat rack freight container is a broad, horizontal metal structure that is attached to a ship's deck using detachable steel locks. They are used to move big and heavy items. It only includes walls or support posts on the ends, allowing freight to be loaded from the top and/or sides. They usually come in three sizes: 20ft (6m), 40ft (12m), and 53ft (16m). The base width is 8 ft (2.4m), and the depth can range from 5 ft (1.5m) to 7 ft (2.1m).
However, most of the time, you won't have to bother about choosing containers for your shipments. You may leave it to your freight forwarder or international shipping company to find an ideal solution. It is, of course, as long as they know what sort of items you want to transport, the weight, dimensions, and volumes of those goods, and any unique needs such as temperature control, insulation, or ventilation.