Companies from Istanbul still continue to increase their export figures day by day. These Istanbul companies, which play a vital role in exports of Turkey, have reached significant figures in 2022.
President Recep Tayyip Erdogan introduced the new economic model of Turkey, which will be valid from 2021. Following the export-oriented new economy model, we analyzed Turkey's latest situation and growth potential in this area.
When we look at the figures, Turkey's share of global exports was 0.86% in 2013, while this rate increased to more than 1% in 2021. This figure shows that the export-oriented model is getting better day by day. There is no doubt that companies operating in Istanbul have a great share in this increase in exports.
Companies Operating in Istanbul Lead the Way in Exports
Turkey's exports increased by 32.9 percent compared to the previous year and reached 225.4 billion dollars last year. For the first time in history, Turkey's share in global exports exceeded 1%. The foreign sales of companies in the industrial sector in Istanbul are particularly noteworthy. This increase in exports continued in January and February of 2022, gaining momentum.
Exports of companies based in Istanbul climbed by 27.1% in January-February 2022 compared to the same period the previous year. The exports reached 14 billion 985 million 333 thousand dollars. As a result, Istanbul-based firms achieved the greatest January-February export figure in history. Istanbul has far outpaced the rest of Turkey's provinces in terms of exports. The metropolis was followed by provinces such as Bursa, Izmir, and Gaziantep in exports.
Istanbul Was Followed by Other Major Cities
Kocaeli, the second closest industrial city to Istanbul catches up with 2 billion 861 million 535 thousand dollars. Bursa follows Kocaeli with 2 billion 537 million 456 thousand dollars. Izmir follows Bursa with 2 billion 182 million 766 thousand dollars. Lastly, Gaziantep follows with 1 billion 626 million 563 thousand dollars.
While companies from Istanbul delivered their products to 222 points of the world in 2 months of the year, the city's share in Turkey's January-February period was 39.9 percent. In the first two months of the year, Istanbul-based enterprises saw the greatest increase in exports in terms of value. In this period, foreign sales of Istanbul-based enterprises climbed by 3 billion 195 million 349 thousand dollars in value when compared to the same period the previous year.
Which Sectors Came to the Forefront in Exports?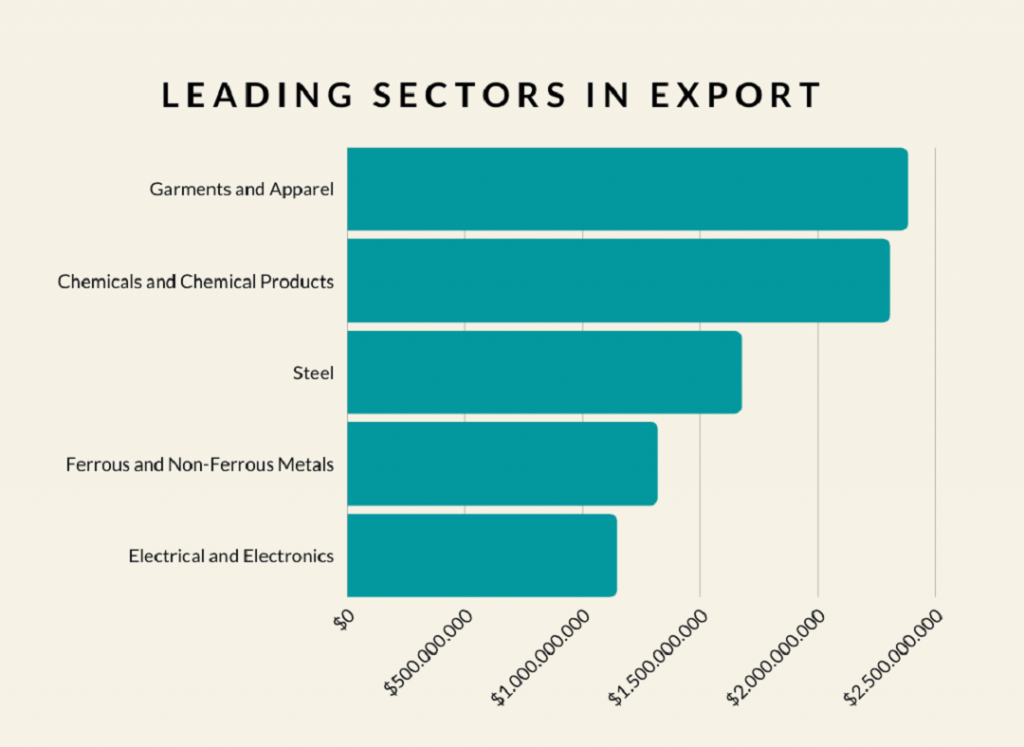 With 2 billion 379 million 823 thousand dollars in international sales, ready-made garments and apparel companies had the biggest amount of foreign sales in the city. Chemicals and chemical products shipped 2 billion 303 million 164 thousand dollars and the steel industry 1 billion 673 million 310 thousand dollars. Ferrous and non-ferrous metals shipped 1 billion 316 million 526 thousand dollars and the electrical and electronics sector 1 billion 142 million 787 thousand dollars.
24 Sectors Experienced Significant Export Increase Compared to the Previous Year
Among the 24 sectors that have increased their exports significantly, the most notable are air and defense industrial products. The vast majority of the increase in exports was in the defense and aerospace industry sector with 132.1% in January and February 2022. This sector was followed by ship yachts and services with 122.5%, iron, and non-ferrous metals with 61.7%, fruit and vegetable products with 54.5%, aquaculture and animal products with 50.3%.
Defense and aerospace industry companies operating in Istanbul exported $398,592,000 and ship yachts and services companies exported $75,442,000. Fruit and vegetable products companies exported $98,907,000, and companies operating in the aquaculture and animal products sector exported $105,444,000.
Istanbul Exports Mostly to Western Countries
Due to its geopolitical position, Istanbul can easily reach the European market by land, air, and sea transportation. Of the Western countries, the highest demand came from Germany. Companies operating in Istanbul exported 1 billion 435 million 984 thousand dollars to Germany during this period. The United States followed Germany with $844,684,000, the United Kingdom with $770,864,000, Italy with $748,390,000, and Israel with $630,834,000.
From Turkey to the World
Turkish Goods is a solution partner of international organizations in production and product supply in Turkey. With its mission From Turkey to the World, Turkish Goods has one of the largest supplier databases in Turkey. We find strategic resources, control every aspect of the production process, and obtain the most accurate price by using the competitiveness of the market. Turkish Goods is an unrivaled service provider for its partners who want to import products from Turkey.
Turkish Goods, which aims to invest in sustainable growth and reduce the costs of doing business by supplying hundreds of products every year, serves its customers from seven continents in 13 languages. As Turkish Goods, we offer unrivaled service in the sector with pricing in 48 hours. You can contact the Turkish Goods team to import the best quality goods from Turkey.